Family Business Dynamics - Governance
Greenille Private Client
In order to grow, family businesses should have the courage to professionalise both the business and the family.
Studies show that family businesses perform on average better than non-family businesses: they show resilience, are more profitable than non-family businesses and bear fewer debts. However, there are some dangers lurking, such as the lure of rapid growth or cracks in consensus. A well-known stereotype claims that these cracks usually take place in the third generation, the generation of the spoilers after acquirers and the inheritor.
Family and business dynamics
We support and guide wealthy families with their private interactions within the family, business wealth and investment wealth. We help the family come to specific agreements in a deliberate and thoughtful way. Examples of concerns related to family business succession include how to build wealth and make sure it grows; or how to ensure that (grand)children feel good and get along with each other constructively. Agreements about these topics are put in writing, for instance in a family compass (Charter), the establishment of a family council, an arrangement concerning family business succession or in rules and agreements about family governance. Lawyers and tax specialists of our advisory team then implement the legal aspects of those agreements in legal instruments such as succession planning, inheritance agreements, a family pact or a fiscal restructuring.
We support families in a trajectory over time during which the family can grow in mutual trust and respect and learn to communicate and listen actively. This way, family agreements obtain a solid foundation. Family members live up to agreements made and are provided with tools to deal with future challenging situations. The whole family teams up to work on the continuity and sustainability of the business, and family harmony.
Being part of a wealthy family is not only a privilege. It brings responsibilities to deal with family, business and wealth in a wise and sustainable way. Our goal is to make sure that every family member feels responsible, acts as a sustainable shareholder and finds a role that suits him/her best. Our approach reaches further than deciding on management positions or members of the Board of Directors.
Approach
In order to fully grasp the complexity of the family business, supporting the growth process towards sustainable shareholdership, we work with the three gear model as shown below1: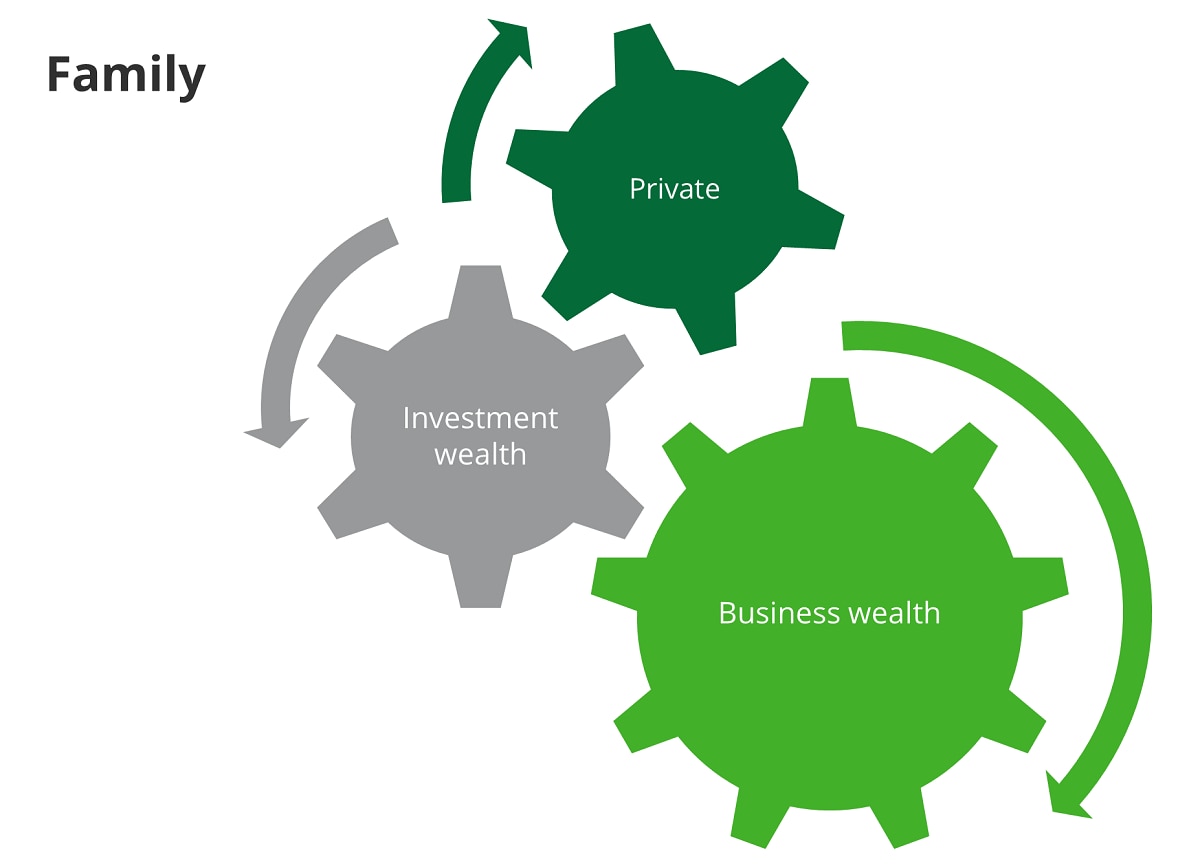 1 Verbeke, A. L., Euwema, M. C. & Bollen, K. (2020). Familiale grammatica, beter communiceren en constructief omgaan met conflicten. Antwerpen: Intersentia.
A wealthy family usually includes 3 components or gears: the private, business wealth (family business) and investment wealth. These gears are interlocked: what happens in one component has a (in)direct influence on what happens in the other. For example, the values and norms that live in the family will have a direct or indirect influence on the family business, the decisions that are made there or investment decisions. When things do not go well in one of the spheres, this will have an influence on the family as a whole and on the sub-spheres. Energy is transferred, as it were, and this can happen with more or less friction or 'sand' between the gears. The three gear model makes it possible to map out one's own unique situation as well as the desired situation across generations.
In order to develop a legal and fiscal planning that is sustainable, the commitment of all family members is needed so that everyone can happily take up his/her role within one or more spheres or gears. To achieve this, you need to know not only what parents and children want, but above all what they think is important, and why. Within our team, working on a well-considered family planning is done in three phases. (1) Preparing the family: preparing the family to talk to each other, (2) Negotiating the familiy deal: discussing and negotiating with the family about what is really important and writing it down in a common compass, and (3) Executing the family deal: elaborating legal and fiscal wealth planning that is embedded in a clearly supported family vision.
We always start from the specific needs of the family at a given moment. This implies we work in a flexible, tailor-made way at the family's pace. Often, we start with a Discovery Lab: this lab takes place in one day. With the help of one-on-one conversations, interactive exercises and a collective dialogue in the family, we explore the concerns that live in the family as well as the priorities of these concerns for the individual family members. At the end of the day, the family collectively determines the next steps of the family (business), which are drafted down in a family compass. This family canvas may suggest the start-up or facilitation of a family council, the facilitation of (a number of) conversations, coaching for individual family members or mediation in challenging and conflict situations. In some cases, it is difficult to get the family all physically in the same place for one day, because they live in different countries or agendas are difficult to match. We then organise a scan and plan, using Zoom or Skype to have individual conversations with each family member before the family canvas is drawn up. On a regular basis, we organise tailored workshops for children and grandchildren about for example active listening, definitions of legal concepts, how to interpret economic balance sheets, or decision-making on a group or individual level.
When several family branches are involved, a weekend focusing on group dynamics can be very helpful and relevant to connect different family members and to get to know each other. Usually, this weekend takes place on site or at the headquarters of the family business. The (grand)children fulfill together a variety of group assignments while cooking together and staying over. The nature of exercises varies greatly depending on the family needs: how to communicate constructively, how to give feedback, team building, leadership, negotiation, getting to know each other's strengths and weaknesses. When different various workshops are combined into a program over time, we speak of a Family Academy.
Our team
A team of experts guides and supports the families. Our Family & Business Dynamics team members are experts in communication and group dynamics, organisational psychologists, educational scientists and specialists in negotiation and mediation. They collaborate closely with our lawyers and tax specialists. Our Family & Business Dynamics team is scientifically embedded in the Center for Family Business & Dynamics at the Faculty of Psychology at the KU Leuven and the research line 'Negotiation and mediation' at the Institution Contract Law at the Faculty of Law at the KU Leuven.
Our team offers a mix of psychological, communication and legal know how: Prof. Dr. Alain Laurent Verbeke, Dr. Katalien Bollen and Prof. Dr. Martin Euwema (Of Counsel).
Wheel of offerings
Based on our Wheel of Offerings we design a trajectory containing products and services tailored to the needs of your family business.
Related family dynamics news