Family Business Dynamics - Governance - CoE
Centre of Practice & Research Excellence
Who we are
We strive to be a Center of Excellence, both in Practice, Research and Practice. This is not a typo: it is how we approach our work, a circular interaction between our practice and research, back and forth, a constant learning and growing process.
All our team members rely on a vast experience in advising private clients, businesses and organisations and have an extensive academic and research background. Our academic HQ is at KU Leuven in Belgium and we are present in several universities around the world such as Harvard Law School, Cambridge University, Tsinghua University, Tilburg University, UCP Lisbon Global School, the University of Maastricht, the University of Seville and the University of Copenhagen.
Our Center of Excellence is part of the Mediation, Communication and Coaching (MCC) team of Deloitte Legal. Specific expertise in Family Business Dynamics and Governance has been developed by the Greenille Private Client Team of Deloitte Legal.
What we offer our clients
We operate in different fields of expertise, including law, psychology, educational sciences and communication sciences. We adopt a multidisciplinary approach addressing the many issues that families encounter as they evolve and start thinking about preparing the Next Gen for succession.
A holistic, integrated process approach is our guiding principle in counselling families and their different generations towards sustainable shareholdership, more family harmony and understanding each other. We developed the three gear model, putting the family as an umbrella over the three contexts of private, family business and investment wealth.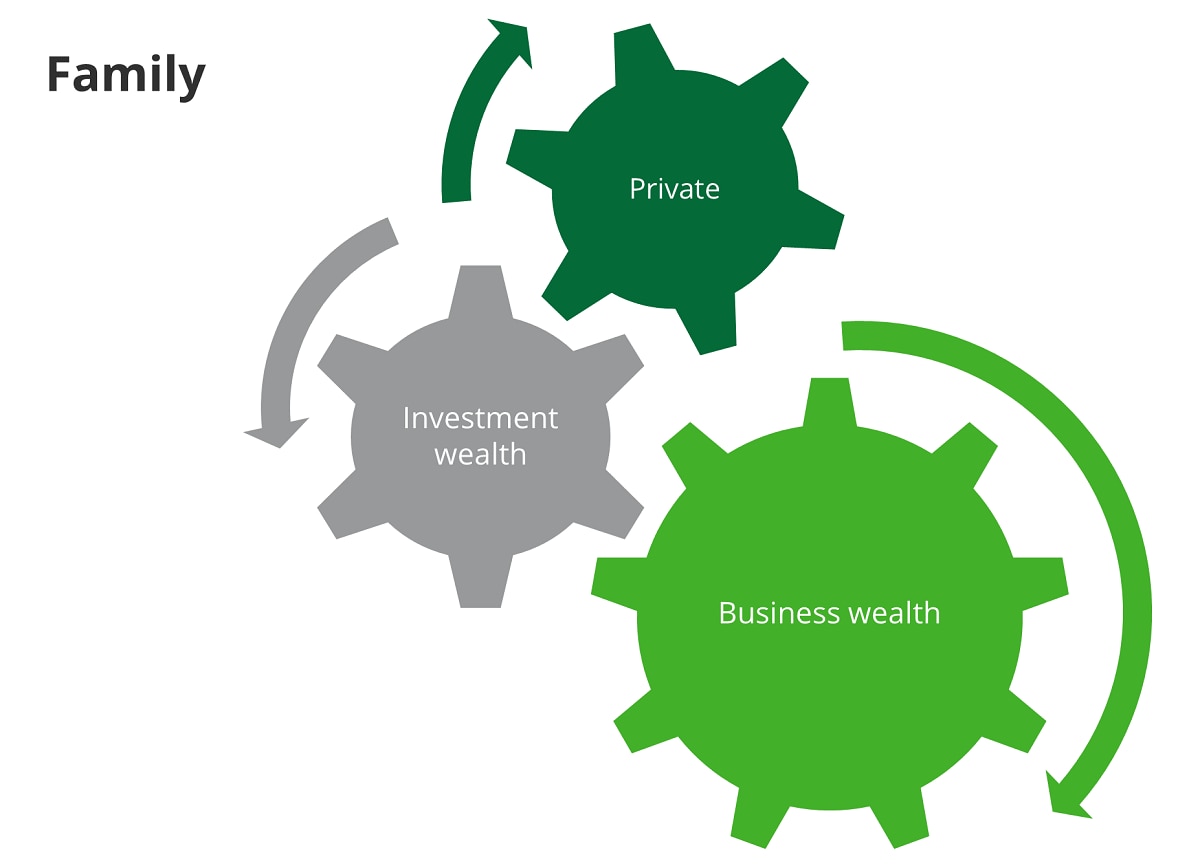 We work with the three phases of family planning in a continuous trajectory. Families often have fairly straightforward technical or legal questions they want to discuss with their lawyer or tax expert in view of drafting tax or legal documents. In some cases, it is indeed perfectly possible to work out the issues legally and fiscally almost immediately because the family is ready, well prepared, skilled in active listening and open to communication; because each family member feels good about him or herself and everyone knows exactly what to expect from each other. There is no role confusion or role ambiguity and the level of trust in each other is tremendous. In most families, however, this is not the case. There is a lot of conflict avoiding behaviour and communication is often difficult. In our experience, it is therefore best to prepare the family before executing a sustainable legal and fiscal planning. This can ensure buy-in from all family members.
The three phases of family planning include:
Phase 1: "Preparing the family". It is good to have an open dialogue and reflection within the family. During this phase, we help families levelling the playing field by setting up a Family Canvas. The interests of all family members are mapped out in relation to the desired private life and assets future (Discovery Labs, facilitating difficult conversations, labs on better active listening and empathy).
Phase 2: "Negotiating the family deal". A Family Compass (charter, constitution) is drafted, linking values and behaviours to concrete roles for each family member. Rules on governance and control over assets are discussed. We use the dynamic term Family Compass, rather than the static charter or constitution.
Phase 3: "Executing the family deal". The values and principles are further elaborated in a Tax and Estate plan, a logical translation of the family's interests.
Learn more about our approach and the cases we encounter in our e-book "Grammar of a wealthy family"
Request a book
I am interested to receive the book 'Grammar of a Wealthy Family'
Request Now
What we offer professionals worldwide
We do not only work for clients. We share our know-how and experience with professionals around the world. We strive to provide leadership, best practices, support, scientific knowledge and training related to family businesses and family enterprises, their dynamics and governance.
Intervision in concrete client cases – Background Support
We offer intervision sessions to professionals working with family enterprises worldwide. Intervision is a peer coaching activity in concrete client cases. We offer support and strategic advice on how best to deal with some complex human and emotional issues raised by clients. We discuss concrete interventions and next steps. Intervision can be limited to a 1 hour brainstorming session or can expand over several sessions.
Intervention in concrete client cases
Our involvement can be supportive or active, through direct interventions, under the client team's leadership, (co-)facilitating or mediating complex situations. We organise workshops, next gen training or family dynamics weekends in which the focus is on family dynamics, communication skills (active listening & feedback) and other themes based on client feedback.
Awareness and technical training sessions – Educating professionals
Many Professionals work in close contact and in connection with family enterprises and high net-worth clients. They act as trusted advisor on a regular basis. Although they have developed a sophisticated set of human skills, it may happen that they do not pick up signals given by the client. Spotting such signals in an early stage may well be essential in supporting the family.
We offer trainings and workshops for professionals with different backgrounds or fields of expertise, improving their ability to "read" the client and understand the specific issues that characterise family enterprises. We work in close contact with the Family Office offering of Deloitte Private.

Training for professionals
Our trainings for Professionals on communication, strategic facilitation, coaching, negotiation and mediation come in three levels, from level 1, the basic level creating private awareness for all professionals, advanced level 2, for those actually involved in family and business dynamics, to expert level 3 for a limited group of professionals dealing with very specific and highly sensitive issues of family dynamics.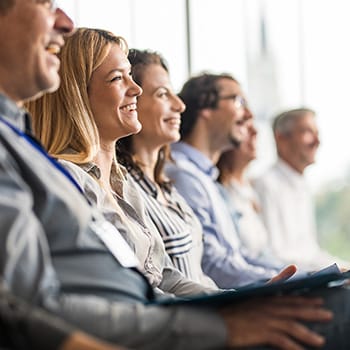 Level 1: Basic level of Private Awareness
Level 1 workshops and training sessions increase practitioners' awareness of issues that are related to the personal, emotional side of family enterprises, also improving their own human skills and personal development. This level is relevant for all professionals with a focus on Phase 3: Tax, Legal and other Technical Advisory work.
Tax and legal experts working in close contact and in connection with (high net-worth) clients and leaders of family businesses usually function as one of such clients' trusted advisors. Despite their experience, also on the human level, they may often tend to focus on the job itself, the technicalities and the flexible and performant solutions they can bring. Even though they are sensitive to all signals of worries and concerns given by the client in relation to the business or the project, and come up with great solutions, they may not always pick up signals as expressed (non-verbally and verbally) by clients regarding other issues such as their personal situation, family dynamics that are at play and all important underlying interests, emotions, frustrations or irritations, worries and concerns in the broader personal domain
It is important for trusted advisors to capture "unsaid" emotional and private issues and to have an adequate response in order to initiate a more intimate conversation on such matters. This is the private awareness level that the true trusted advisor skilfully masters. They can "flag" delicate issues and eventually help their clients by involving level 2 or 3 experts.
Level 1 trainings help professionals answer the following questions:
Am I fully aware of all the thoughts and concerns of my clients?
Was there an opportunity to start a more intimate conversation with my client (e.g. about the family)?
Did I take that opportunity? How can I start a conversation on these aspects?
Did I focus on non-verbal signals?
Did I leave room for other aspects besides the technical issues at stake?
The FBD-G Centre of Excellence offers:
Thematic workshops to reach private awareness level
Individual coaching on different topics to further develop private awareness


Level 2: Advanced level of Family Business Dynamics – Governance practice
Level 2 trainings and interventions elevate the skills of professionals who also assist families in the non-tax and legal first two phases of preparing the family for family compass, charter or constitution negotiations. Here the focus is not on fiscal or legal technical solutions but on facilitating more intimate conversations related to family, business or investment wealth.
Advanced level tax and legal experts, communication experts or psychologist advise families in their process of communication and growth towards sustainable shareholdership and family harmony. They facilitate labs, workshops, meetings and family councils. They help families engage in constructive communication and explore their common set of values, rules of engagement, roles, governance principles. They act as the bridge between the family and their lawyers, tax or other experts who will execute and implement the deal in a solid technical way (Phase 3).
At this advanced level it is crucial to accept that such type of work can never be done by one single professional on his/her own. This is team work and, at least, a "sparring partner" or "buddy" is needed to help experts "go to the balcony", and look at the case from a distance and from different angles. As such, there is a structural need for intervision with a sparring partner, mostly behind the table (see above). This is the type of intervision services our Family Business Dynamics - Governance team offers family counsels, around the globe.
Moreover we offer workshops, trainings and coaching on human skills' further development.
Level 2 trainings will help professionals answer the following questions:
Do I feel confident to intervene in conflicts in a constructive way?
Do I know how to develop empathic communication?
Do I know how to work on a common set of values, rules of engagement, roles and governance principles with my clients?
Am I able to address emotional, personal and deeply human questions unrelated to my technical expertise?
The FBD-G Centre of Excellence offers:
Thematic workshops and trainings to become a skilled Family Business Dynamics - Governance Practitioner
Individual coaching to further develop these skills
Intervision to brainstorm on cases and identify the appropriate approach (behind the scenes)
Collaborative facilitation with our experts also at the table facing the client (direct interventions)


Level 3: Expert level of Family Business Dynamics – Governance practice
We offer this service to experts in Family Business Dynamics and Governance with a background in communication and psychology and advanced expertise in coaching, strategic facilitation, mediation and other specialised interventions. At this level, complex psychological issues are addressed at an individual or group level.
Some examples of advanced interventions:
On many occasions family members (often next gen) need intense individual coaching.
There may be intense tensions between two family members requiring a very sensitive and strategic facilitation.
In heated family disputes, mediation may be the solution.
In some sophisticated families (often in 4th or 5th generation) there is a the need for more advanced workshops on communication, decision making, leadership, change management, board room dynamics (which can be combined in a trajectory for Next Gen development or training).
In complicated multi-generation and multi-branch families, a full family dynamics weekend in residence, often at the family businesses headquarters, can be organised applying all techniques of group dynamics, as taught in the Master of Organisational Psychology at KU Leuven
These types of intervention are often reserved to Senior Family Business Dynamics and Governance counsels based on the concrete situation at hand and the specific needs of the family. Furthermore, in this type of expert interventions, a regular team intervision is essential. In dealing with very intimate and delicate client issues, multiple experts are involved and a constant peer review guarantee the highest possible quality standards.

The Family Business Dynamics - Governance Centre of Excellence offers:
Help at the client's table: (Co-)mediation, (co-)facilitation, negotiation
Coaching (development centre)
Tailormade advanced workshops for the client